About Tudors - Termite Pest Control
Operators:
Tudor Vasile – 25 years experience.
Formally a marine engineer, Tudor entered the pest control industry in 1990. Tudor is a fully licensed operator that has established & grown Tudor's PC into a strong & reputable company of today.
Tudor specialises in all services from General Pest Control, to Termite Inspections & treatments.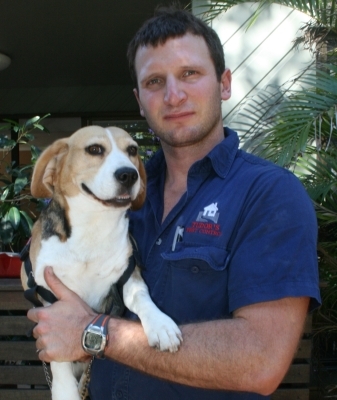 Wesley Tudor Vasile – 18 years experience
Wesley has being involved with Tudor's PC since he was 15 years old. Officially joined the business at age 18. A decision to join the pest control industry has been a highlight of Wesley career. Wesley is also a fully licensed pest technician, specialising in all forms of pest control.
Wesley provides an enthusiastic & passionate personality to the pest control industry.
Wesley was once the youngest termite inspector in Brisbane & also the first operator within the Brisbane region to add a Termite Detection Dog to his team. We can confirm however, Sniffy the Termite Detection Dog is now retired & lazys by the pool.
Tudor Vasile Jnr
After living in Sydney for 7 years, Tudor Jn decided to return to Brisbane. Tudor has joined the business as a General Pest Technician. Tudor has over 15 years experience in the corporate arena, understanding the underlining fact of customer services. Tudor brings a new energy to the company & its a great addition to the team.